Mercury Energy Solutions Ltd will undertake general environmental improvements to your home or business such as supplying and installing Water Butts and Waste Disposal Systems
Waste Disposal Systems
The clean, convenient and safe way to dispose of food waste. Keeps your kitchen clean, free of odours and mess.
Food waste disposers are an envoronmentally responsible alternative to transporting food waste to landfills. And they can help reduce greenhouse gas emissions. Food waste converts to biosolids at the waste treatment plant and can be recycled and applied as fertiliser. Biogases can be captured and recycled as an energy source.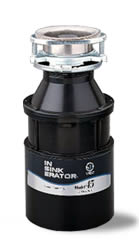 Water Butts
As part of our commitment to the environment, we are keen to offer our customers a way of saving water that can be used to help the garden in dry spells. Almost 100,000 litres of rainwater falls on our roofs each year so by collecting it in a water butt, you have a ready source of water that can help keep your garden looking lush and green. Mercury Energy Solutions Ltd can supply a range of plastic water butts in various styles and sizes depending on your taste and budget.
A water butt can be connected to a downpipe so that it collects rainwater from your gutters. If you are using a downpipe, you will also need an overflow pipe or a rain diverter to redirect water into the butt. Once it's full, water flows down the drainpipe. A gutter filter will also keep out unwanted debris.
We will supply the water butt of your choice and carry out the installation to the nearest downpipe and would recommend the installation with a stand if not choosing a wall mounted version. This will allow for space below the unit for filling watering cans or connection of a hose.